COLD TAR MASK SYSTEM
This powerful mask has such amazing healing and nourishing properties. Try giving your follicles some extra TLC once a week by pasting a thin layer all over your scalp. Let it sit for 10–15 minutes, then rinse and shampoo.
Keeping your hair follicles strong is essential for preventing breakage, to exfoliate, stimulate growth, and remove product buildup.
Controls severe scalp conditions:
Thinning Spots
Abnormal Hair Loss
Seborrhea Dermatitis
For best results, continue using for 24 weeks,
shampoo at least, bi-weekly.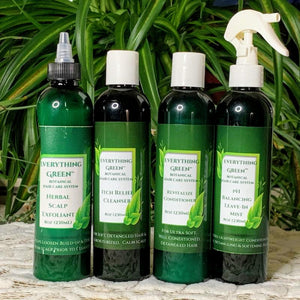 ITCH AWAY & EXFOLIATION CLEANSE SYSTEM
Exfoliate & Refresh the scalp from city pollution by removing excess sebum and dirt with Everything Green which nourishes Scalp & Roots. Gentle exfoliant made with natural jojoba wax beads that works to detoxify and cleanse the scalp while absorbing impurities for a natural PH balance. 
Controls mild to sever Build-up that may cause itchy, irritation, broken skin, soreness & hair loss
   Common causes 
Dry
Build-up
Scalp Residue
Season Change
Hormonal Aging Hair & Scalp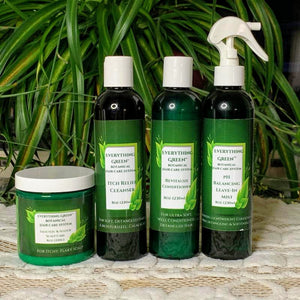 SULFUR MASK SYSTEM
Deeply cleans follicles and exfoliates troubled scalp & skin with this powerful mask. Sulfur and Salicylic works to target surface build-up and draw out impurities from the skin & scalp. Revitalizing Conditioning Oil provide a soothing boost in order to reveal shiny hydrated looking Hair & Skin. 
Controls dandruff, itchy, irritated flacking scalp conditions
   Benefits of Sulfur:
Kills fungal growths Decreasing the occurrences folliculitis
Destroy foreign debris that causes mold or mildew
A longer Anagen phase means longer hair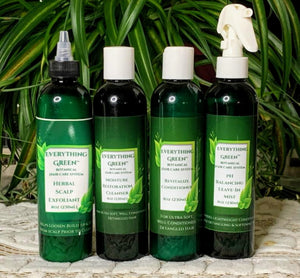 MOISTURE REVITALIZATION SYSTEM
 Is an all-in-one product that effectively works in 15 different ways to instantly revitalize and nourish dry or wet hair. Reset, restyle, and refresh has never been easier. Formulated for all hair types in need of hydration, conditioning and exfoliation it leaves the hair feeling soft, moisturized, and conditioned, with a brilliant shimmer before shampooing. It nourishes hair with moisture, leaving the hair looking renewed, soft, and shiny.
Hair Moisturizer 
Dry/Brittle Hair
Great for post Protective Style Scalp Exfoliation
Quality styling aids and tools available HERE. Coupled with fashion and function we have the latest products & tools. Each product has a special purpose for your unique look and each tool can help you recreate YOUR LOOK!! We are here to fulfill those DESIRES with Exceptional Hair Care Products.